The River Yamuna

© 2015 Armchair Travel Company - This page is for non-commercial use ONLY!



Save as Microsoft Print
Word document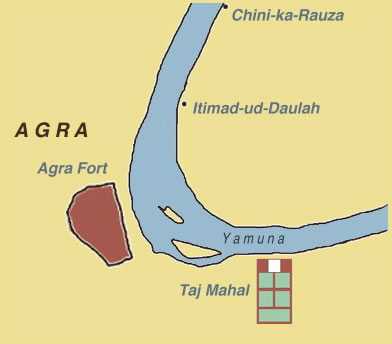 The River Yamuna, linked to the sacred river Ganges, meanders through Agra passing many Mughal sites of special interest including Chini-ka Rauza and Itimad-ud-Daulah. The Taj Mahal and most of the thriving city is located on the west bank of the river which played an important role in the development and construction of the Taj Mahal,





and provides a dramatic backdrop. The site was chosen downstream from Agra Fort and past a sharp bend. The calm water provided a mirror and the shimmering reflections give the feeling of a 'floating tomb', an idea accentuated by the water channels in the gardens.





The water which fills the channels was once fed from the river and historical evidence suggests it was physically moved to flow closer to the building. This enabled sand and shingle from the river-bed to be used in construction.





Boats were a popular mode of transport and the water ways would have been much busier than they are today especially as the Yamuna links Agra to Delhi. Construction materials and workers arrived by boat, as did many visitors and the peaceful body of Mumtaz Mahal.





After his death, Shah Jahan's body was also taken to the Taj Mahal down the river before being laid to rest next to his beloved wife.