The Mosque

© 2015 Armchair Travel Company - This page is for non-commercial use ONLY!



Save as Microsoft Print
Word document




As Mohammed said;
wherever the time of prayer overtakes you, pray; that is a mosque...
and according to the law of Islam, all tombs and mausoleums had to have an adjoining place of prayer.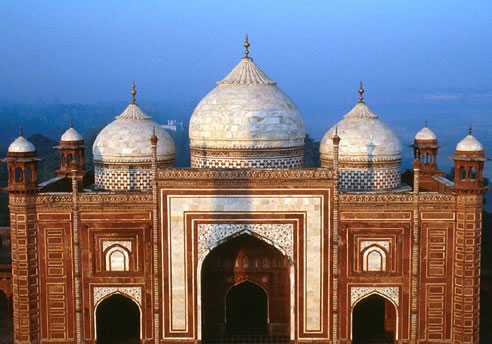 The Mosque or Masjid, which stands to, the west of the Taj Mahal is reported to have been built by Isa Muhammed and plays an integral part in the overall design. It is made from red sandstone and measures 210 feet [64 meters] in length and 90 feet [27 meters] in width and is raised on a slight plinth. The exterior possesses one dominant portal, which is also known as an iwan.





Either side of the major iwan is two smaller arches sandwiched between four towering pinnacles. The spandrels above the arches are studded with colored marble inlay and the mosque dados feature naturalistic floral designs.





On the roof and complementing the arches below are three marble-coated domes. Inverted lotus shaped designs cloak the top of the domes, surmounted by gilded finials. On the four corners of the mosque are chhatris, or domed kiosks, which have a marble coated veneer.



The floor design of the mosque is in the shape of clearly defined prayer mats, which articulates what would have otherwise been a rather plain expanse of polished stone. The main features in the interior of the mosque which distinguishes this structure from the guest house opposite are the mihrab and minbar. The mihrab is a niche which indicates the direction of Mecca and the direction which the Muslim faithful face to perform their prayers or salah. Circling the mihrab are calligraphic inscriptions taken from Sura 91, The Sun, from the holy book of the Qur'an.





The minbar, the place from where the imam or priest delivers a speech, is here positioned to the right hand side of the mihrab and consists of three steps to a flat platform; however minbars can take many forms. A mihrab and minbar are to be found in all mosques.





At the top corner of the mihrab are two round discs, which contain quotations from Sura 112, The Sincerity and The Unity. There are further disks bedecking the walls of the mosque, which bear reference to Mohammed.





To produce a symmetrical effect, a Guest House, of similar proportions and appearance to the mosque, was built to the east of the Taj Mahal mausoleum. This is called the Response.